January 4th, 2010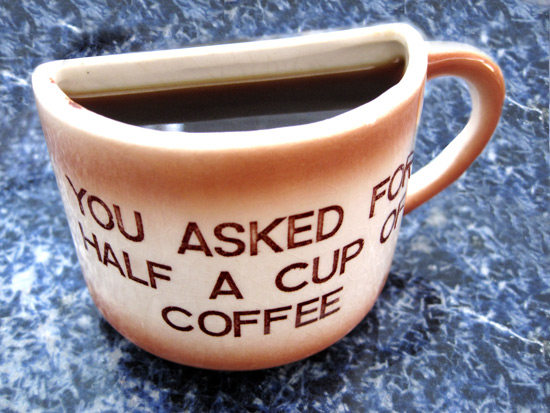 For the last two months I've held to a strict schedule of drinking coffee every other day.  I can't decide if this represents a laudable achievement of self-discipline or just a new format for an old habit.  Probably both.  But I'm definitely in a way better place than when I started this Project.
My new schedule feels like a good compromise.  I'm not suffering the stomach cramps, jitters, headaches, paranoia or snippyness that coffee was giving me before, yet I'm still able to seize the motivational and mood-amplifying effects.  And that's good, because I'm chronically unable to motivate myself otherwise.
On the other hand, the difference between my coffee days and my non-coffee days is dramatic; two months ago it was worse.  I have to plan my life around it a bit.  Coffee is for writing, correspondence and planning.  Without coffee, I'm better off doing chores and reading.  I probably should add or drop a day so that I always have coffee on Mondays. But Mondays are Mondays, so here I am blogging without coffee — my apologies.
As as my resistance to caffeine returns, other factors come into play to determine my mental and physical state: the weather, sleep, what's on my mind or my schedule, et cetera.  I guess that is what "normal" feels like.  I guess normal is still novel to me.  I like it.
This may be my last post on this topic.  It's charming how many friends ask me "how's the coffee treating you?" when I see them lately.  Thanks for all your concern.  I definitely am feeling much better.